The Anti-Defamation League has taken up the Media Matters' cause by attacking Glenn Beck's series against George Soros:
Glenn Beck's description of George Soros' actions during the Holocaust is completely inappropriate, offensive and over the top. For a political commentator or entertainer to have the audacity to say – inaccurately – that there's a Jewish boy sending Jews to death camps, as part of a broader assault on Mr. Soros, that's horrific.

….The Holocaust was a horrific time, and many people had to make excruciating choices to ensure their survival. George Soros has been forthright about his childhood experiences and his family's history, and there the matter should rest.
Its true, Soros was forthright but there is nothing wrong with someone talking about what Mr. Soros described as the best time in his life.
The ADL started with great intentions
The Anti-Defamation League was founded in 1913 "to stop the defamation of the Jewish people and to secure justice and fair treatment to all." Now the nation's premier civil rights/human relations agency, ADL fights anti-Semitism and all forms of bigotry, defends democratic ideals and protects civil rights for all.
"Stopping the defamation of the Jewish People" has nothing to do with the ADL's criticism of Beck. During the tenure of its current National Director Abe Foxman, the Anti-Defamation League transformed itself from an organization protecting Jewish civil rights to a group dedicated simply to selling America on the progressive movement (and Abe Foxman). For example here are some of the ADL's position papers supporting the progressive agenda:
The ADL has even written a white paper trashing the Tea Party Movement. Calling it part of the "New Rage in America".
A quick read of this White Paper show the group has totally abandoned its mission to fight anti-Semitism and all forms of bigotry, and is using its donated tax-free funds to concentrate on a political agenda, the President's mission to silence all dissent to his policy. Here are some examples:
In the section about Tea Parties, the ADL uses the MSNBC-party line by seeking to minimalize the movement by branding the protesters as people misusing the Holocaust, Nazi imagery or simply that they are White Supremacists. At the Tea Party protest I attended, my head was covered by a yarmulke, which of those categories would they put me in?
The ADL Claimed that the Tea Party movement was created by Fox News or other conservative outlet, playing up the "AstroTurf" propaganda pushed by the progressives at the time:
The Tea Party movement is made up of individuals and groups, at the grass-roots level and from established conservative organizations, who plan and attend rallies around the country to express their anger at the government. Some conservative media outlets, such as the FOX News Network, have also played a role in promoting Tea Parties.
Then they return to the right wing crazy argument. Notice how the describe the "over the top incidents as one lady or one report? That's because they were few and far between but you wouldn't know it based on their report.
A local Republican Party chairwoman at the event described participants as "people standing up for their Constitution…They're ready to fight for their country. Socialism is being pushed and we don't want any part of it." At a rally in Madison, Wisconsin, one woman reportedly even had a sign comparing President Obama to the anti-Christ.

According to the ADL White Paper the tea party movement morphed into a conspiracy following, group of crazies.They use the example that a few protesters were "birthers." They know very well that the "birther" movement is outside the mainstream of the tea party movement, that it started with Hillary Clinton supporters, and has been discredited by the vast majority of conservatives.
Maybe Big Abe should mention that the POTUS appointed Van Jones, a 9/11 truther. Using the logic of his ADL, that would make the entire Obama Administration a bunch of truthers.
The ADL should be identifying itself as a political organization, it certainly doesn't have its mission of protecting Jews as it's priority. For example, three years ago I was working on the case of Laurie Richter, who at the time was Ft. Lauderdale resident. Laurie's condo wanted to start fining Ms Richter because the management of the Condo had a ban on displaying objects on "public space." The ban applied to Mezuzahs, Jewish religious symbols, but not Christmas wreaths. See Jew Hatred in Our (other) Ancestral Homeland: Florida. When the ADL was called to help Ms Richter out they refused to help out even though it was a clear case of bias against a Jew. It was only after I contacted Florida's Attorney General and Senior Legislators were Ms. Richter's problems solved.
The ADL continues to ignore its mission so its leadership can become leaders in the Progressive Movement. That is what is behind its attack on Glenn Beck.
If you wish to comment on the ADL's subjugation of its mission to become an arm of the political progressive movement, Click Here and you will arrive at its comments page.
For those of you who donate to the Anti-Defamation League allow me to remind you that there are many other worthy Jewish charities where you can donate your hard earned money. I strongly urge you to consider moving your money to one of those other organizations. Perhaps one that puts its mission to help Jews in front of its leader's desire to become a "big shot" in progressive politics.

YID With LID
Retreat.
---
Amazon has apparently conducted an about-face over its sales of a book that allegedly promotes pedophilia after a national outcry over its policy. ABC News reports now that the book, while still listed at Amazon, no longer can be purchased through the website after its controversial position was widely criticized by its customers. ABC earlier […]
More on the intersection of domestic politics with foreign policy: The Jewish Week's Jim Besser writes that, in rebuffing Obama on a construction issue, it "looks like Netanyahu [is] testing how far he can go with a newly weakened administration in recasting some fundamental assumptions that both sides have agreed on as the foundation of Israeli-Palestinian negotiations, starting with the assumption that any agreement will have to include significant compromises on Jerusalem."
Besser isn't sure this is a good move:
[Netanyahu] may be expecting more from an administration that suffered big losses last week than he's going to get, and in doing so, he is could be creating a new diplomatic crisis that could undo the positive work he and Obama have done this year in overcoming their differences.
And in another notable step, Laura Rozen reports that Netanyahu met today with Eric Cantor last night. Per the readout:
"Eric stressed that the new Republican majority will serve as a check on the administration and what has been, up until this point, one-party rule in Washington," the readout continued. "He made clear that the Republican majority understands the special relationship between Israel and the United States, and that the security of each nation is reliant upon the other."
As results continue to dribble in from extremely tight local and state elections across the country, all about independent voters, independents have already moved on — or stayed the course, depending on your POV. Let's turn our attention to some important propositions that were put to the ballot this year:
California continues to lead the way in political reform. Back in June, passage of Prop 14, the Top Two Open Primary referendum, enfranchised 3.4 million independent decline-to-state voters in the state in the first round of voting.
And now, as Chief of Staff for the Committee for a Unified Independent Party (IndependentVoting.org) John Opdycke reported last week, voters in Florida are speaking out on the need for political reform:
Proposition 20-which expanded the California Redistricting Commission's mandate to include Congressional districts-passed by 20 points. In addition, Proposition 27, a bi-partisan ploy to dismantle the Commission, was defeated by a similar margin.

And in Florida, the voters passed Amendment 5 by a 25 point margin. Its passage establishes clear, non-partisan guidelines for the drawing of legislative districts.
Opdycke goes on to point out the significance of these votes:
While the big story yesterday was the new Republican Congressional majority, the victory for redistricting reform in California and Florida was an important subtext. The Democratic and Republican Parties have mastered the non-developmental game of capturing and recapturing the approximately 60 competitive Congressional districts. But this back and forth blood sport-while making for good copy-does not provide the American people the opportunity to fully express their desire for change. When voters have the opportunity to speak directly, as they did in Florida and California, without being filtered by the political parties, reform passes overwhelmingly.
A footnote to these important state-wide reform initiatives: third-term-in-a-two-term-limited NYC Mayor Michael Bloomberg set up a Charter Revision Commission (a good thing) to get public input about any city charter issues confronting New Yorkers. The Hankster (moi) was there for a 6-month relentless campaign by the prestigious 100 year old "good government group" Citizens Union, the anti-party organizations of the NYC Independence Party, and an expanding city-wide youth contingent. [A sizable and increasing 25% of NYC youth, mostly black and Latino, are disenfranchised by NYC election law by virtue of being independent…] You can review video here at HanksterTube.
Big Media is paying a lot of attention to the VOTES of independents in the recent midterm elections, and precious little attention to the ACTIVITY of independents on the ground. Their analysis for that reason, of the votes of independents leaves out a critical factor — being independent in a bi-partisan political culture is downright impossible!
And it's doing the impossible that independents are so good at.

Independent strategist Jackie Salit put it best in her pre-election report to the CUIP networks (a growing national loosely affiliated on-the-ground collection of independent activists):
Right now, it's very hard for the American people to express themselves. The media has molded politics into a blood sport. And the political system channels everything into a left/center/right, Democratic/Republican paradigm that undermines progress and rewards division. Independents are trying to make a statement about all of that. But even so, we barely register as "real," even though, paradoxically, we now decide many important elections.
So unfortunately — or possibly fortunately for most of us since they don't know what they're talking about anyway — Big Media, not surprisingly, misses the mark. What independents want is structural political reform.
What does it take to get real political reform? I say grassroots organizing — going door to door, speaking with friends, family, neighbors and strangers about what you REALLY think about our political culture and what to do about it. Let me know what YOU think!
Thanks for reading this. And look for upcoming "Reports from the Field" from independent activists around the country on The Hankster

The Moderate Voice
Controversy erupted yesterday when it was discovered that Amazon.com was selling an e-book that purported to offer advice to pedophiles:
Amazon.com Inc. is selling a self-published guide that offers advice to pedophiles, and that has generated outrage on the Internet and threats to boycott the retailer.

The availability of "The Pedophile's Guide to Love and Pleasure: a Child-lover's Code of Conduct" calls into question whether Amazon has any procedures — or even an obligation — to vet books before they are sold in its online stores. Amazon did not respond to multiple e-mail and phone messages.

The title is an electronic book available for Amazon's Kindle e-reader and the company's software for reading Kindle books on mobile phones and computers. Amazon allows authors to submit their own works and shares revenue with them.

Amazon issues guidelines banning certain materials, including those deemed offensive. However, the company doesn't elaborate on what constitutes offensive content, saying simply that it is "probably what you would expect." Amazon also doesn't promise to remove or protect any one category of books.
After initially saying that it would not remove the book from it's catalog due to concerns about 'freedom of expression,' the company decided to pull the book yesterday after a firestorm had erupted on the internet:
Amazon.com appears to have pulled "The Pedophile's Guide to Love and Pleasure" a day after the Kindle e-book's listing on the shopping website ignited anger from hundreds of customers.

The controversial book was available for purchase Wednesday through the Seattle-based online retailer, but a click on any link to the book's listing on Amazon directs to a page that says "We're sorry. The Web address you entered is not a functioning page on our site."

Amazon officials were not available to comment about the book  Thursday morning.

The book, described on Amazon by its author, Phillip R. Greaves, is an "attempt to make pedophile situations safer for those juveniles … by establishing certain rules for these adults to follow."

The listing said the book was published for the Kindle, Amazon's popular e-reader device, on Oct. 28.

Greaves' book garnered more than 3,000 comments while it was available for sale, and  commenters gave the book an average rating of one star.
For those who aren't avid users of Amazon's site, one star is the lowest rating one can give to any product.
This is about the outcome that I expected would happen when I first heard about this story yesterday. While its initial statement that it "believes it is censorship not to sell certain books simply because we or others believe their message is objectionable," the fact remains that Amazon is a business that thrives on attracting mainstream users, including parents. Once this story that a book about pedophilia was available for sale on the site (and it's still unclear how it got there) became an internet firestorm, simple corporate public relations mandated that the publication be sacrificed for the sake of the public image of Amazon.com.
As is usually the case with these types of situations, though, most of the comments about the case reveal widespread misconceptions about the First Amendment and freedom of expression. Amazon's decision not to sell the book would not be censorship. Amazon is a private company and therefore isn't bound by the First Amendment in any respect. For that reason it's unfortunate that the first public statement they issued made reference to "censorship" struck me as not only wrong, but also completely missing the point of the objections that people were raising to the publication. Clearly, Amazon doesn't sell every publication or movie available. If it did, you'd be able to buy hardcore pornography there. The fact that you can't is a result of a business decision that Amazon has obviously made. It isn't censorship, and Amazon was wrong to try to cast the calls for them to take a second look at this product in such a way.
At the same time, though, it's not entirely clear that the publication itself, although it's subject matter is offensive, is illegal in any respect:
The fact that a book advocates criminal behavior — however vile — does not mean it falls outside the First Amendment. Consider, for instance, Brandenburg v. Ohio, standing for the general proposition that "the constitutional guarantees of free speech and free press do not permit a State to forbid or proscribe advocacy of the use of force or of law violation except where such advocacy is directed to inciting or producing imminent lawless action and is likely to incite or produce such action."

However, the First Amendment status of a book that explains how to get away with criminal behavior is more complex. A full discussion of that is beyond the scope of this post. Eugene Volokh's exceptional article Crime-Facilitating Speech discusses it at length. It appears from some reports that the book includes at least some advice about getting away with pedophile conduct; I haven't bought the book and am not going to, though.
Which leads us to the second lesson that can be drawn from this story.
As Ken over at Popehat (who I quote and link above) points out, before this story went viral yesterday morning, this e-book had sold one copy since it had been listed for sale. By the time Amazon had deleted the page from its site, it had made it onto the Top 100 list for the day. Granted, many of these sales were probably to media outlets and the like, but it's still the case that thanks to the Outrage-of -day viral mentality, hundreds or maybe even thousands of copies were sold at $ 4.00 copy. Obviously, the author had a very good day yesterday.  As Ken says:
In other words, assuming for the moment that the book actually contains non-obvious suggestions on how to get away with molesting children, the OUTRAGE mob has just lifted the author from complete obscurity, given him a chunk of money, and ensured that his previously obscure child molestation suggestions are now known, widespread, and widely available.

Oh, well done.
So, what lessons can we learn from this ? Well, nobody understands the First Amendment, Amazon has a fairly bad crisis response team, and catapulting a creep to internet fame usually just ends up being to his benefit.
All in a day's work, I suppose.

Outside the Beltway
Bright future?
---
The big question after the midterms is how the Tea Party stays coherent and effective after their big victory in the midterms. Glenn Reynolds and PJTV hosts a discussion with Tea Party organizers Mike Wilson and David Kirkham about this very issue in a rare, free release from the subscriber channel.  Glenn talks more about […]
The military junta in Burma (Myanmar) had hoped to regain some international credibility by holding the first supposedly free election in 20 years.
Opposition leader Aung San Suu Kyi, daughter of Burma independence war hero Aung San (VOA)
Burma's election is widely regarded outside of Burma as being a sham election. President Barack Obama said that it was unacceptable to "steal an election." Many of the ballots were pre-marked with votes for the military junta, and polling booths were positioned so that officials could peek at voters' choices, according to Global Post. In some parts of Mandalay, the second largest city, polling places closed early, presumably to avoid risking anti-junta votes.
The election sparked violence between the Burmese army and rebels from the Karen ethnic group, causing thousands of Burmese people to flee across the border to Thailand. However, by Wednesday the fighting had stopped, and Thailand has been forcing refugees to return home, according to Australian Broadcasting.
From the point of view of Generational Dynamics, it's not surprising that civic violence has once again fizzled quickly, since Burma is in a generational Unraveling era, and large demonstrations that fizzle quickly are common during these eras as I described when the massive demonstrations occurred in 2007. (See "Burma: Growing demonstrations by the '88 Generation' raise fears of new slaughter.")
Both of Burma's last two generational crisis wars (1886-91, 1948-58) were bloody ethnic civil wars. Whenever such a war ends, a dynamic always sets in that must be understood to explain what's happening in Burma today. (See ""Basics of Generational Dynamics."")
When a violence civil war ends, politics for the next 50 years is dominated by only one issue: Making sure that civic violence doesn't happen again. As soon as the war ends, officials attempt to set up an infrastructure and austere rules that will prevent any further internal violence. The steps that are taken differ in every case. After America's civil war, a Reconstruction period was instituted, and it seems to have been successful, since a second American civil war never occurred.
Burma gained independence in 1948, but didn't find peace until the ethnic civil war ended in 1958. At that time, a civilian government was set up, but within four years the army overthrew the civilian government, and has remained in power ever since. Whatever motives the army leaders had — a desire for money and power, for example — in such a situation a big motivation would have been the belief that the civilian government was too weak to prevent a new civil war.
The real problems always begin when the generational Awakening era begins, usually around 15-18 years after the end of the civil war, when the first generational growing up after the war begins to make their voices heard. The "generation gap" between the war heroes and their children always leads to massive political disagreements and low-level violence.
Burma's Awakening era climax occurred on 8/8/88, when hundreds of thousands of opposition students in the "88 generation," joined by monks and civilians, marched against the military government. This climax, which always occurs in every generational cycle, is the point at which a winner is decided — either the younger generation or the older generation.
The Awakening is usually "won" by the younger generation since, after all, the older generation starts to die off. If a nation is to avoid another civil war, then the Awakening era climax MUST be won by the younger generation. For example, this is what happened in America, when President Richard Nixon was forced to resign in 1974. On the other hand, the older generation "won" in China, in the massive slaughter of the Tienanmen Square massacre in 1989.
In Burma, on 8/8/88, soldiers opened fire on the opposition demonstrators with machine guns, resulting in thousands of casualties. An opposition leader was Aung San Suu Kyi, the daughter of revered war hero Aung San. Suu Kyi and many of her supporters were arrested in 1989, but that didn't prevent her party from winning resoundingly in the 1990 elections. However, the army didn't permit the winning party to take office. Suu Kyi has remained under house arrest almost continually since then, with the army junta expressing fear that her release might mean spiraling violence.
Burma burst into worldwide news in 2007 with huge demonstrations and protests, led by Buddhist monks, typical of generational Unraveling eras. (For example, think of the "Million Man March" in 1990s America, which flamed brightly for a moment, and then extinguished.)
The irony of Burma's 2007 demonstration is that a new civil war was impossible in that generational era, and the demonstrations had to fizzle quickly, no matter that the ruling junta did. But, knowing nothing about generational theory, they went ahead with the worst strategy possible: Hundreds of activists and citizens were shot dead or burned alive in government crematoriums, and thousands of Buddhist monks, who led the protests to begin with, have been rounded up and detained. Some were found floating face down in rivers. All of this was unnecessary.
When the older generation of war survivors "wins" the Awakening era through violence, they begin to face a severe problem when the Unraveling era approaches its end, as is happening now in Burma.
Burma's leaders are now in their 70s, and the country is facing a succession crisis. The leaders distrust pretty much everyone in the the younger generations, and they're still fearful that any mistake can spiral into another bloody civil war. So they're facing some desperate choices.
Last Sunday, Burma had its first election in 20 years. Although most outsiders consider it to be a sham election, many Burmese citizens were quite excited about it, and considered it to be a first step on the path to a better life. VOA quotes a freelance reporter from Rangoon as saying, "It's a huge change. And the fact is there is an election that is being approved by the regime. There is open political activity going on. People are campaigning in the streets. People are talking about problems that they want fixed and that they want their candidates to be addressing. People are talking about what they don't like about the current regime. People used to only talk about that in confidence, in strict confidence, if they knew that you weren't somehow going to use that information to get at them."
Unfortunately, the euphoria will not last long, and already the junta is being pressured to prove that things are changing.
Under massive international pressure, the junta is considering freeing Aung San Suu Kyi from house arrest. On October 27, AFP reported that junta leaders were planning to release Suu Kyi after the election, and now VOA reports that preparations for her release were being made.
However, the situation is unclear because the release will be accompanied by limits on what Suu Kyi is allowed to do and say, and Suu Kyi has said that if she is released, she will say and do what she pleases, irrespective of any rules.
It's a very strange situation, isn't it. Aung San Suu Kyi is just one woman facing down a powerful military junta that fears what will happen if she's allowed to walk the streets instead of staying locked up in her home. But this is how irrational governments become.
From the point of view of Generational Dynamics, a new civil war is still impossible in Burma at this time, in a generational Unraveling era, and will be impossible for several more years. The release of of Suu Kyi may well cause some protests and demonstrations, and not releasing her may cause some protests and demonstrations, but in either case the demonstrations will fizzle quickly. Whether she's released or not will make no predictable difference to the future of Burma. It's too bad that the junta doesn't understand that.
Back when pundits were tripping over themselves to call 2010 an "anti-incumbent" year or an "anti-Establishment" year, conveniently eliding the distinction as it served their purposes, I wrote:
I would be very surprised if any "anti-incumbent fervor" put much dent in the extraordinarily high rates at which incumbents are reelected.
And then I forecast that among House incumbents running for the general election, 87% would win. Commenter treetop noted last week that my prediction was good. Our data suggest at this moment that 86% of House incumbents won their general election bids. Here's a graph with data from 1972-2010.
Clearly, incumbents did a little worse in 2010 relative to other years, although 1974 is similar (89%). So I wouldn't be surprised if some breathless commentator is already declaring that OMG THIS WAS THE MOST ANTI-INCUMBENT ELECTION IN ALMOST 40 YEARS.
Me, I'm still pretty impressed by 87%.
But perhaps incumbents won by slimmer margins? Not really. The median percent of the two-party vote won by incumbents was very much in line with the historical average since 1972: 65% in 2010, compared to 68% overall.
And here's another interesting thing. You might think that lots of incumbents decided not to run or lost their primary races in 2010. I calculated the percent of races with no incumbent running in the general election and it was an astonishing…10%. Which was really no different than most recent elections. Here again is a graph:
There might be other ways you could prove that incumbents had a harder time in 2010. As Brendan Nyhan has shown, Democratic incumbents in competitive districts were more likely to face quality challengers. But that suggests how the climate in 2010 was disadvantageous to Democrats, not to incumbents as a whole.
What is the bottom line? Don't read too much into a few isolated early primaries (see: Robert Bennett) or into polls where vast majorities of Americans disapprove of Congress or even indicate their willingness to vote for the challenger.
Incumbents still dominate congressional elections.
Big Journalism called out Arianna Huffington's Post for an ethics violationon October 27th by pointing out their role in manufacturing a smear aimed at Libertarian philanthropist Charles Koch, while pretending to simply be reporting it. Unfortunately, the White House Press Corp credentialed Huffington Post has opted to respond by quietly updating a previous post in an attempt to salvage some credibility, while including an update that only impugns their credibility even more.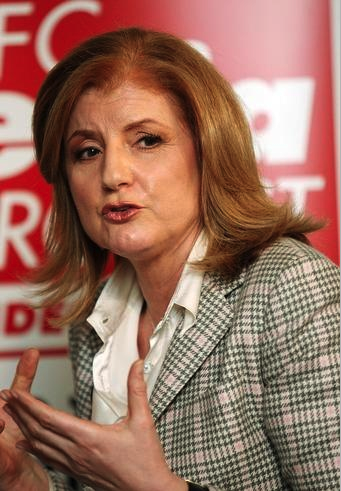 Its post-publication update for accuracy is bad enough; their unnecessary and inaccurate casting of aspersions, again against Koch, is far worse.
**Disclosure: Since Joel and Gabe both experienced technical difficulties with their phones, I let Joel use my cell to place the call to Charles Koch's office.**
Evidently Huffington Post propagandist Brendan DeMelle never put forth any effort to determine what Big Journalism was able to confirm with relative ease.
Update #1:The car I arrived in along with Gabe Elsner was tailed after dropping us off (on public property), and our driver reported being passed by three times by a red burgundy Cadillac with Missouri plates AA3Z5L, driven by a white male smoking cigarettes. Whether this was a Koch employee or contract security guard has not been confirmed but I am working on finding out.
It's surprising that DeMelle never bothered to follow up, most especially given that all he had to do was ask one of his fellow activists along on the media stunt and attempted smear of Koch. The vehicle in question is registered to Democrat Van B. Adams, whose wife Taunia actually Tweeted about her participation at the event, while naming the activist and Arianna's pseudo-journalist all in one Tweet. Taunia Adams touts herself as an FDR Democrat, making her politics quite clear on her main Twitter page.
#kochdebate Outside Koch Industries w/ Gabe & Brendan. Joel Francis to arrive any minute to deliver debate demand on CA #Prop23
DeMelle used the car of one of his compatriots to leave Huffington Post readers with the false impression that they feared they were being followed by "a  Koch employee or contract security guard," when nothing could be further from the truth. It's a shame that a once respectable organization such as the White House Press Corp continues to allow its reputation to be tarnished by allowing in a publication so obviously invested in manufacturing propaganda, not simply reporting the news.

Big Journalism
On this past weekend's Fox News Sunday, panel member Mara Liasson – also of NPR – invoked the name of Winston Churchill as she recommended that House Democrats send off Nancy Pelosi "in a blaze of glory" after having "accomplished historic things," rather than keep her on as party leader in the House. Liasson:
Nancy Pelosi did two things for which she will go down in history. She was an incredibly effective majority leader when, and Speaker, there was an opposition President. She helped make the majority. And when she was in the majority, she was the hammer that got through President Obama's agenda and sent it to the Senate. However, that is a completely different role than what she wants to do now. For which, I think she's kind of like Winston Churchill. I mean, she accomplished historic things for the Democrats, and they should be sending her off in a blaze of glory and adjusting for this new regime.
Panel member Brit Hume took exception with Liasson connecting Churchill and Pelosi. After Hume argued that "the difference between her and Winston Churchill is that Winston Churchill was turned out after he led his country to a great victory," leading Liasson to respond that she agreed Pelosi "should be turned out," the exchange continued:
NewsBusters.org – Exposing Liberal Media Bias